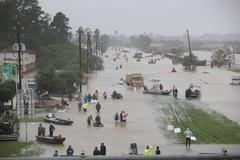 To all my friends who want to help the victims of Hurricane Harvey but aren't sure how:
After 9/11, I went to NYC to work at the Family Assistance center. While there, I met a man by the name of Michael Beckett who exhibited an unusual gift of mercy. He told me about Christian Disaster Relief, CDR, the organization he was there to represent. He recommended my going through their emergency response training, which I later did.
What I found is that they are an impeccable group of Christians that God has called to go to disaster sites and feed, clothe, help rebuild, and share the Gospel. They operate in integrity and truly take their calling seriously. Ron Patterson, the director of CDR, has a firm policy not to cut corners. People in crisis receive healthy, hot, delicious meals, and CDR only accepts and rebuilds with quality building supplies. Teams are setting up now to mobilize the moment they can get in to help Hurricane Harvey victims.
If you are considering giving to any crisis relief organization, THIS IS THE ONLY ONE I RECOMMEND. Please help them to help the people of Texas. I pray that you give generously because your donation will be put to work to help both the physical and spiritual health of the victims! Here is a link to their organization that tells more about them and at the bottom of this page is the donate button: https://www.cdresponse.org/who_we_are
One last note: If you believe God is calling you to go with them to help, they need people to serve food, hand out supplies, and pray with people. It is very physically challenging work, but extremely gratifying. Please go to their website and click on the volunteer tab to fill out an application. You can call Ron or Sharon Patterson at their office 1-863-967-4357 (HELP) and they can tell you more.
Thank you for your tax-deductible donation that will truly help hurricane Harvey victims.
In the Father's Love,
Judy A Bauman