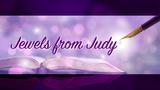 FOLLOW MY LEAD, NOT MAN'S HYPE!
Judy A Bauman

An exhortation from Jesus' heart to yours
"When a man repents of a sin and then goes back to justify it, a greater sin lurks at the door. This is especially true for those commissioned into ministry. Sin cannot be justified! Do not look at miracles as proof that a minister is in good standing with Me. Do not confuse My grace and compassion on My sheep with man's anointing.
"Take heed to what is written in Matthew 7:21-23 'Not everyone who says to Me, 'Lord, Lord,' shall enter the kingdom of heaven, but he who does the will of My Father in heaven. Many will say to Me in that day, 'Lord, Lord, have we not prophesied in Your name, cast out demons in Your name, and done many wonders in Your name?' And then I will declare to them, 'I never knew you; depart from Me, you who practice lawlessness!'"
"Repentance must be sure and complete. Going back to justify the means for an end will only beget greater sin. This doorway will be the downfall of a man if it is not quickly shut and sealed with the Blood of Jesus – My Blood. Sin justified in the pulpit will be greatly judged. Repent for the Kingdom of Heaven is at hand!
"When I move upon My ministers to groom and feed and care for the Body, I do not have them each act the same way. I made you different for a reason, as is proved by your unique fingerprints, yet My Church ever seeks to 'fit in.'
Unfortunately, more of My leaders are learning from each other than they are from My leading – as are the people learning how to react to My touch from others. They learn the motions of man and they fail to learn from Me, their Standard. You cannot look to man to teach you how My glory will move. That is looking to the past to see the present.
"If you must look to the past, read the Gospels. I Am the same yesterday, today, and forever. My ways are not man's ways, My 'methods' were never the same. I did that on purpose so that you would see that you are not to get stuck in some methodology. Mimicking the motions of man is nothing short of idolatry, as is running after the anointing. Idolizing what a man does when performing great and mighty things does NOT glorify Me! Many times, what you see as a great miracle is nothing short of divination. Did I not warn of the deception to come? If you indeed see a great miracle, then who should be given glory, honor and praise – My ministers or Me? Who are you going to chase after?
"If you follow anyone else's lead but Mine, you are following a copy. You are following a miniature model of Me – NOT ME! It would be like seeing a model airplane and expecting you can get inside and fly somewhere. Can you get in a model car and go for a drive? I think not!
"Learn, My Children, learn that you cannot operate in My glory outside of Me. You cannot conjure up My Spirit by emotionally charging the people. You will see My glory on those I touch. They are often the ones no man lays hands upon because their faith has reached heaven and their prayers have come up as a sweet aromatic sacrifice. It is My touch, not man's that changes them. They come from that place transformed by My glory. It may not be immediate, but it will be lasting.
"Do you want to see people healed and whole? Then bring them into My presence in sweet and sincere worship. Enter My courts with thanksgiving and praise; then come into My presence in worship. I seek those who worship in spirit and in truth. As you minister to Me, allow My Holy Spirit to minister to the people.
"I did nothing unless the Father showed Me. I said nothing unless the Father spoke it. Do likewise and not one will walk away unfulfilled. As they step into that realm of glory, everything that is not of Me will be burned up. This is where cancers fall off, ears open, eyes see, hearts are turned from stone to flesh – the dead now live! You will not have to work in My holy presence to see people healed as their faith in Me – not man – is what brings lasting healing.
"Beloved, you do not have to lose your voice screaming and yelling and stomping around. I did not do that, so neither should you. I was stern with demons, but I never had to scream at them to come out. That is flesh trying to accomplish something begun in the Spirit. Paul warned you in Galatians 3:3 the foolishness of this thinking. I never shoved people to the ground to demonstrate My strength in the Spirit, nor did I push people over and call it the anointing. These are My beloved sheep being pushed around, so I advise and charge you to treat them as I would. The fruits of the Spirit are evident.
"David was a man after My own heart, but when he mishandled My glory his ignorance cost Uzza his life. Uzza was guilty of presumption in his attempt to steady what I was shaking – a difficult but necessary lesson for My people.
"Do not stabilize what I Am shaking!
"David was guilty of going ahead with his plan without including My instruction. He had good intentions, but they were outside of My leading. David had to come to Me in great reverence and humility to learn how to carry My glory. So, if you see someone irreverently handling My glory, pray for them to gain wisdom. They have gone ahead of My leading. Do not condemn them, pray for these as some are My David's – those also after My own heart. Be merciful as I Am merciful.
"Please, stop looking to man, Church; look only to your heavenly Father. My sheep struggle to understand who I Am because of the abuses of their earthy fathers, teachers, and mentors. Shoving them around only contributes to a false image of who I Am. I thoroughly taught and portrayed this love and I expect you to follow My lead – not man's hype."
In My Father's love,
Jesus
Scripture References: James 3:1; 1 John 1:6-10; Matthew 4:17; Psalm 139:15-17; John 4:23; 5:19; 1 Corinthians 3:11-15; Galatians 5:22-26; Acts 13:22; 1 Chronicles 13:1-8; Luke 6:36; 15:11-32
~
This word was originally shared through the Father's Love Int'l Ministries on
June 4, 2008.
~
Subscribe to our Email
Please sign up for email notifications of new blogs here.



Latest Posts
Archive
Categories